Article by Jtree.net; a Boise SEO and PPC Internet Marketing company.
Does Your Site Go … Too Slow?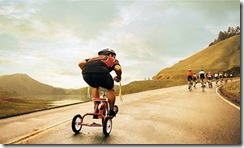 When Google posts about something that could be a major factor about how web pages are ranked, it's always a good idea to listen. When Google blogs, releases news, speaks on camera and blogs some more about the same thing – it's time to do more than just take note.
Just like the fuzz, the big "G" typically likes to warn us before a smack-down is coming. In this case, it's a potential Search Engine rankings smack-down.
In a nutshell; G-unit is telling us that slow websites could soon be ranked lower regardless of other factors like number of quality backlinks and other On-Page SEO factors. They have even provided a site performance tool for testing any website you have added to Google Webmaster Tools. What this tool does is show how fast your site (or blog) loads in comparison to other sites/blogs, in addition to some tips (not always useful) to increase load-times.
Note: Once in Google Webmaster Tools, click on a website, then click on 'Labs' (left-column) and finally 'Site Performance' to use Google's Site Performance tool.
Google allows you take it a few steps further by providing access to their open-source anti-latency tool AKA Page Speed. A Firebug/Firefox extension that runs several best practice tests on your web server (the physical location where your site is stored) and front end code. Page Speed takes a deeper look at issues related to the overall load-times of your website and provides suggestions for increasing speed.
If you're not into the Google tools, you're in luck. Here's another tool that tests your page speed. This tool can help you identify slow loading items for removal, and is a little more useful than Google's site performance tool in terms of identifying items that can easily be removed or streamlined.
Benefits of Increasing Site Speed
The obvious – not having it work against you in the form of ranking penalties
Bandwidth Efficiency – the faster your site loads reduces the amount of bandwidth required to load it (lower web hosting cost)
Usability – site visitors like fast loading websites; helps increase stickiness and decrease bounce-rates
Environmental – faster, more efficient websites increase the efficiency and resource management of the world wide web as a whole
If you've noticed site speed issues by using the tools above, give us a shout, we've been successfully speeding-up web content for businesses for over a decade.